JP & Brimelow had an especially unique display brief as they have two offices across the road from each other, and wanted to pursue different designs in each of these.
JP & Brimelow's sales and lettings offices are situated across the road from one another. Fairfield were called in with an initial brief to redesign the windows displays and interior displays.
"We knew we wanted illuminated displays and an individual look in each office, hence why we chose digital screens in the sales side. The consultant was knowledgeable and put forward a very good price, the installers were quick and efficient too. We are extremely happy with how the project ran; the offices are much smarter and I would certainly use Fairfield again". Words of Jodie-Leah Thompson, office manager at JP & Brimelow, who spoke after the installation was complete.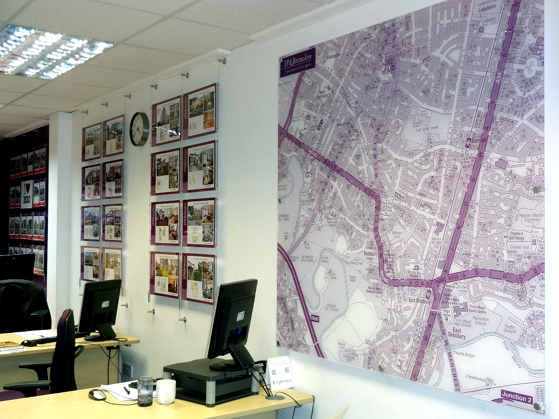 Brief: We want illuminated displays
JP & Brimelow approached Fairfield with a relatively good understanding of what they wanted. The estate agency had LED Light Pockets™ in mind and wanted different displays in their sales and lettings offices. The Fairfield consultant visited to discuss implementation of what the agency wanted, and whilst there it was decided that the interior displays would also be transformed.
The sales office had Fairfield cable displays from a previous install so rather than throwing everything away, the consultant reused the pockets and clamps with wall mounted cable to save the client money.
Two different designs
Illuminated displays were chosen for both offices to ensure they would be shining throughout the dark winter evenings, aside from this though both offices had different focal points. In the lettings office double width A3 landscape Light Pockets ™ created a compact contemporary displays.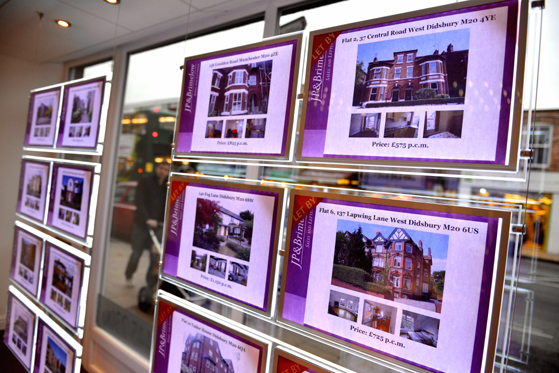 The old sales window was tightly packed with properties and the brief included maintaining the amount of properties displayed in the window. Fairfield produced an angled display to create space and incorporate the screens which already sat in the window. To give the office a contemporary touch, a custom digitally printed 1500 x 1500mm map in brand colours was mounted to the wall.
"The displays really catch the eye"
JP & Brimelow are delighted with the fresh appearances of their two Didsbury offices, two unique designs have helped to produce a different and contemporary approach. Both offices are now bright and easy to view into from the outside, creating welcoming atmospheres for passers-by. The estate agent has since returned to Fairfield for a third install in Wilmslow, another Manchester suburb. Didsbury itself is an area in which Fairfield were prominent in 2013, other Didsbury installs can be read about at: http://www.estateagenttoday.co.uk/oldeat_news_features/Fairfield-top-choice-in-Didsbury. ­
Fairfield Displays & Lighting work on a national basis with a team of local consultants who are able to visit site. With over 30 years' experience and thousands of happy customers Fairfield prides themselves on excellent customer service and supply top quality equipment at competitive prices. Displays consist of the extremely popular LED Light Pockets™ which are available as window and interior displays, wall mounted maps and interior cable displays. To see lots of inspirational ideas visit www.estateagencydisplays.co.uk
Call 01252 759 568 to book a free consultation.