It seems like every day there's a new article about On The Market. Usually it consists something Zoopla have said, followed by something On The Market have said, followed by loads of comments about how badly it's failing, or how brilliantly it's succeeding.
We can't help it. Love it or hate it, it's something that even the most impartial observer has an opinion on - and that opinion is usually bigger than your average Savilles mansion.

Here at AgentPro we specialise in estate agency software, so we've been watching the launch with great interest. We're not agents, so we don't have the tricky choice to make. For us, it doesn't really matter who comes out on top. What matters, for us, is that estate agents keep trying out new things, keep making this industry fresh and exciting, and keep on being successful - however they choose to do it.

Some of our agents have chosen to stick with Rightmove, some with Zoopla, some with both, and some have jumped in feet first to On the Market.

We've put together an infographic to show how the facts of how the big three property portals stack up - free from bias or inside interest.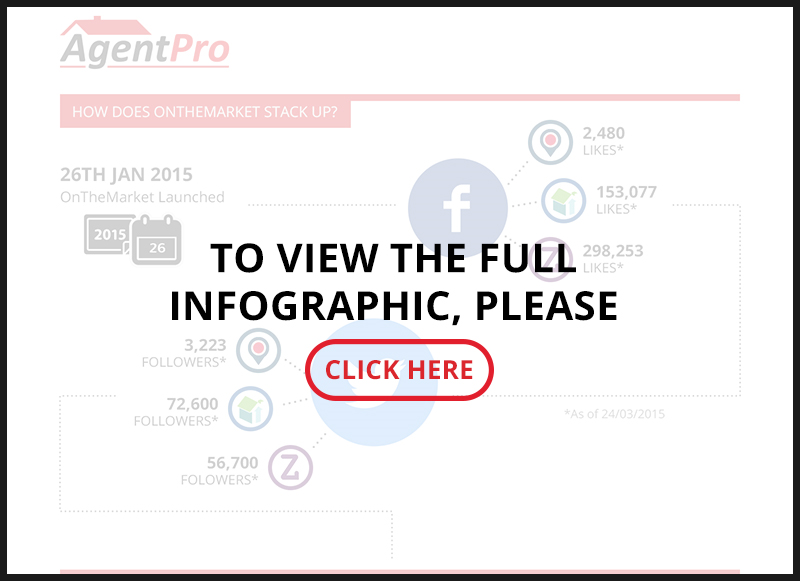 It's quite clear that On The Market is not making a huge dent in terms of visitors, but when you consider that it didn't actually exist until a few months ago it's not doing too badly. It's very unlikely that either Rightmove or Zoopla had anywhere near the number of agents, or leads, or properties when they had only been going a few months. The reach (and fees) have been built up over time, so maybe it's not fair to directly compare the three.

However, the one other portal' rule means that they need to provide similar levels of leads incredibly quickly. They're making Agents sacrifice a major portal in order to join the revolution, not to mention asking them to pay similar levels of fees. They owe it to their members to provide similar results, so the whole experiment doesn't end up sabotaging itself, with Agents who stayed away getting the most interest, the highest prices and the most satisfied vendors.

One of the most interesting parts of our infographic is the section that shows the mean average of fees charged. There's no surprise that Rightmove are charging a massive amount - it's why the whole thing started in the first place. But interestingly Zoopla are often charging less than On The Market. Obviously each individual case is unique, and many estate agents may well have to pay more for Zoopla. Yet it's Zoopla who have been left licking their wounds when agents have left them, keeping Rightmove.

Clearly, it's not just about the money. It's about what agents get in return for that money, which in Rightmove's case is rather a lot - about twice the number of users as Zoopla, and about fifty times as many as OTM.

The users are there for the properties of course. Some are checking out their neighbour's dcor, some are dreaming of rural retreats with acres of land, some are gasping at how much it costs to rent a one bedroom flat in Mayfair, and some, well, some might actually be looking to buy or rent a house.

Both Zoopla and Rightmove have plenty of properties for sale, Rightmove with over a million, and Zoopla with about 800,000, having weathered the loss of agents fairly well in this regard. On The Market is dwindling behind with only 225,000. Browsing through, though, it's got plenty of properties to check out, and if it's getting its properties 48 hours before the other two, that's obviously a major draw for property hunters. At AgentPro we're definitely finding our automatic portal feeds very popular - agents clearly know the benefits of getting their properties online as quickly as possible. By choosing OTM to make that debut, they're giving them an important boost.

Because of the high numbers of properties marketed by Savills and Knight Frank, there's a lot of high-end stock on OTM. The searches automatically show the most expensive results first and a quick hunt shows pages of gorgeous mansions and estates, with the more normal' properties coming up several pages in. Zoopla, on the other hand, automatically shows its results by most recent, so the same search shows an assortment of properties, in all sorts of different price ranges. Obviously these can be changed by the user - but the casual browser is unlikely to bother, so on first impression, Zoopla seems to have more focus on houses that people are actually able to buy. This fits in with their image - the focus on stats and sale prices on their website appeals to savvy users who are looking for a bargain. Which is best depends on what you're selling!

As previously mentioned, it's early days. This infographic represents where OTM are now, and we look forward to seeing how it progresses in the year ahead.

In the meantime - we'll read every press release going. It's better than the tabloids!