John Whiteman, specialists in lettings and property management did a lot of market research before choosing Fairfield to redesign their window display.
Throughout the year John Whiteman have steadily been improving their office, so to them it made sense to have a new illuminated window display as they felt it was important to be glowing when the dark winter evenings arrived.
"The amount of people who double take as they pass our office has been amazing. Your consultant was extremely responsive; he listened to our requirements and gave us a lot of guidance. All Fairfield staff were attentive and a pleasure to work with, particularly the installer who was extremely precise". Finella Wilkie, owner at John Whiteman had great things to say about Fairfield and was over the moon with how the installation ran.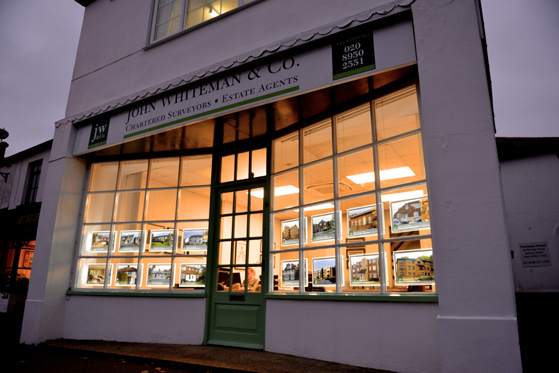 Display to sparkle in the winter evenings
Finella and her team visited several local agents with Fairfield and non-Fairfield installations to understand the different styles and possibilities that the market offered. They decided to pursue a display featuring Fairfield's highly popular LED Light Pockets™, to prepare themselves for the dark winter's evenings.
The site consultation helped us understand all possibilities
Two high kits of A3 Landscape LED Light Pockets™ have opened up the entire window and completely changed the offices appearance. It was key that the design worked with the structure of the windows as the office in Bushey Heath has considerably small window panes. For this reason compact light pockets were used that now allow customers to see clearly into the office making it much more inviting.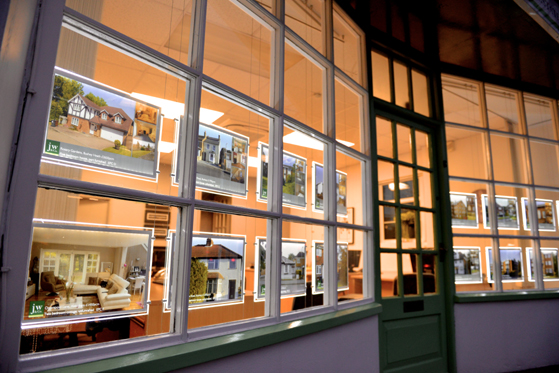 Attention to detail important
John Whiteman wanted to do the installation properly and pulled out all the stops to get the best possible result. "During research we saw many agents using normal paper and this damaged the overall effect. We opted for 120 GSM colotech plus paper as recommended and find it certainly enhances the appearance of our properties. The overall job is superb and we are absolutely delighted with the install".
Fairfield Displays & Lighting work on a national basis with a team of local consultants who are able to visit sites. With over 30 years' experience and thousands of happy customers Fairfield prides themselves on excellent customer service and supplying top quality equipment at highly competitive prices. Displays consist of the extremely popular LED Light Pockets™ which are available as window and interior displays. To see lots of inspirational ideas visit
Call 01252 759 568 to book a free consultation.