2013 has seen Fairfield continue an effective national service, evidenced by a number of transformations in Didsbury, Manchester.
JP & Brimelow, Phillip James and Jordan Fishwick are three Didsbury residents who chose Fairfield in 2013. Around the country there are a growing number of areas similar to Didsbury, where Fairfield have completed installations at numerous offices that are short distances from one another.
With each office in Didsbury valuing alternative features, all focused on different style of display.
JP & Brimelow had a unique enquiry as they have two offices across the road from one another, sales one side and lettings the other. To provide variation the estate agent decided to pursue a different display on either side.
In the lettings office 2 kits of 4 high A3 double width compact LED Light Pockets™ have been installed in a bright, contemporary approach which opens up the entire office from the outside. The illuminated displays were favoured for both offices however in the sales office a digital screen was placed in each of the two front windows, to provide a modern differential between the two offices.
JP & Brimelow knew they wanted an office revamp with LED technology. "The consultant was knowledgeable and the price was very good. The offices are much smarter now and really catch the eye, we are happy and considering rolling out a display to another branch." Jodie, office manager.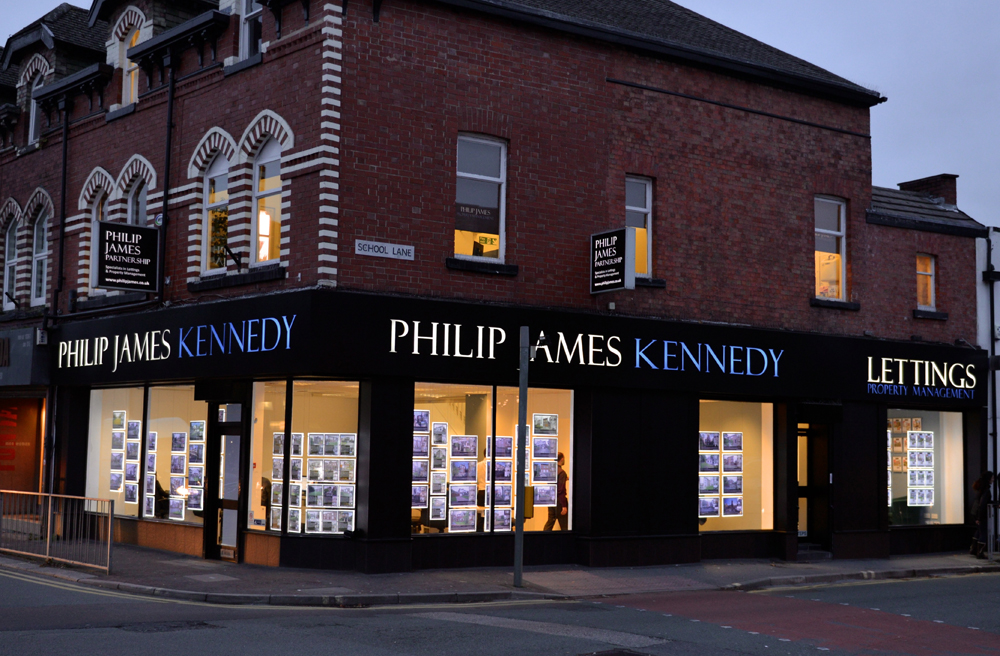 The window display at Phillip James features an array of A4 and A3 sized light pockets. Many of the A4 pockets are in a unique tripled width arrangement which has allowed the company to utilize their corner window. Phillips James are now displaying a large amount of property advertisements in their window without leaving the windows feeling cluttered, the warm glow of the office works well with the light pockets to leave the office appearing sleek and inviting. Since this install Phillip James have accepted a price for Fairfield to redesign their interior display also.
Jordan Fishwick's Didsbury office is the companies 4th to be redesigned by Fairfield. The Didsbury branch had become tired and dated leaving the estate agency searching for a fresh, bright design. They had prices from more than one company but felt Fairfield's was the most cost effective option and were very pleased with the site consultation Fairfield provided.
The estate agent wanted digital screens and decided to have two digital screens in the centre of their two front windows. In each window eight A3 compact landscape light pockets have been placed around the digital screens. Jordan Fishwick's windows are not huge however they used the space especially well and created a welcoming feel for those passing by the office.
"The display is so good even local agents have commented on how smart it looks, it really is superb. Initially we had a touch of difficulty updating our digital screens however the aftercare we received was great and all questions were answered", Richard Jones, Partner. If you are ever in the Manchester area other branches can be found at Glossop, Tib Street and Deans gate.
Fairfield Displays & Lighting work on a national basis with a team of local consultants who are able to visit sites. With over 30 years' experience and thousands of happy customers Fairfield prides themselves on excellent customer service and supplying top quality equipment at highly competitive prices. To see lots of inspirational ideas visit www.estateagencydisplays.co.uk
Call 01252 759 568 to book a free consultation.